Hi Everyone! I apologize for my short posts that have been few and far between...I have been SO busy since returning from my trip to Tokyo! We have been keeping busy this summer and I hope you all are enjoying your summer as much as I have been enjoying mine! Tomorrow, we leave for Vancouver Island...we are visiting a friend who lives south of Sooke, just south of Victoria...there are so many beautiful beaches, lakes, etc. around there and we will be enjoying all of it! We might also spend a night or two camping on one of the beaches...should be fun! My poor house is facing the most neglect...I still haven't caught up on all of the housework since being away for so long...and you know my man did only the bare minimal while I was away....Next week, we will be returning on Monday and then I have to visit my girlfriend and her growing clan on Tuesday...she just had her third child! A gorgeous little girl named Gia...so, I know Monday I won't be getting much sleep as I will be making a card for the little one...Wednesday I have my dental cleaning..and Thursday, is my birthday....so....I can already tell that this coming week isn't going to be very productive! I have a feeling my house is going to be suffering until summer is over...or at least until September hits!
Anyway, sorry for all of the rambling....without further ado, let's talk about what we're really here for....
DYSU
!
This week we want you to
EMBOSS IT
!
Whether you use an embossing folder to dry emboss, or you heat emboss with powder..we want you to show us what you've got!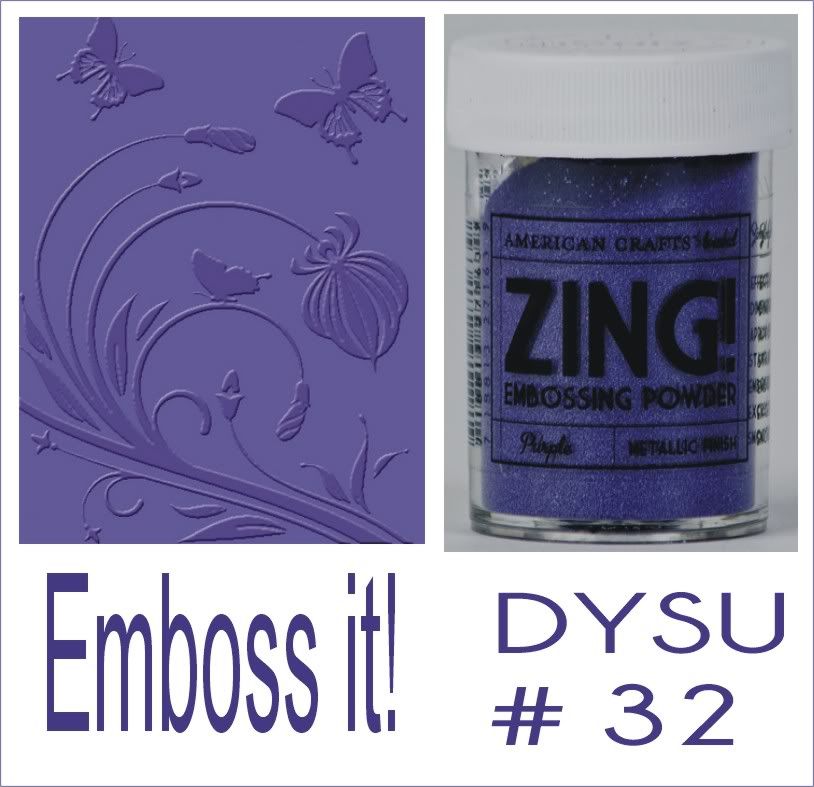 Well, here is what I came up with:
I heat embossed with black on pink cardstock to create the frame. I liked the modern graphic look of the patterned paper and thought it suited my cute image (
Sassy Studio Designs
- Magazine Margie)...then I decided that the image would look great uncoloured, paired with this paper. I really like the orange and pinks in the DSP so, I drew from that as well...I hope you like it!
Now, it's your turn! I hope you will join in on the fun over at
DYSU
....I can't wait to see what you will create!